Ethical Hacking 6 Months Project Based Industrial Training in
Best Project based 6 Month Industrial Training in Ethical Hacking

& Ethical Hacking Training Institute in Noida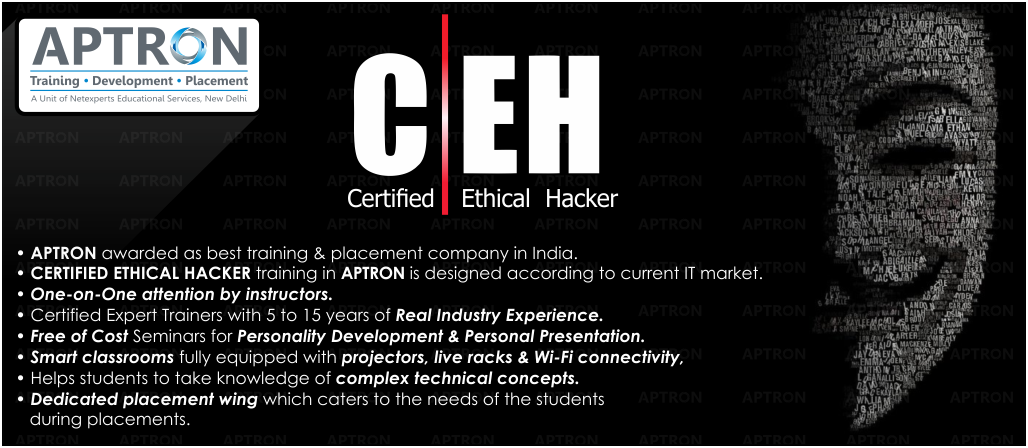 4

out of

5
based on
23
ratings.
5
user reviews.
Project based 6 months industrial training in Ethical Hacking based on current industry standards that helps attendees to secure placements in their dream jobs at MNCs. APTRON Provides Best Ethical Hacking Training in Noida. APTRON is one of the most credible Ethical Hacking training institutes in Noida offering hands on practical knowledge and full job assistance with basic as well as advanced level Ethical Hacking training courses. At APTRON Ethical Hacking training in noida is conducted by subject specialist corporate professionals with 7+ years of experience in managing real-time Ethical Hacking projects. APTRON implements a blend of academic learning and practical sessions to give the student optimum exposure that aids in the transformation of naïve students into thorough professionals that are easily recruited within the industry.
At APTRON's well-equipped ethical hacking training center in Noida aspirants learn the skills for Describe Footprinting, Scanning, and Enumeration, Hacking Web servers and Web applications, DoS, SQL injection, Buffer overflow attacks, Cryptography, Wireless hacking, Linux Hacking, Countermeasures, Ethical Hacking Training on real time projects along with ethical hacking placement training. ethical hacking Training in Noida has been designed as per latest industry trends and keeping in mind the advanced ethical hacking course content and syllabus based on the professional requirement of the student; helping them to get placement in Multinational companies and achieve their career goals.
APTRON is the biggest ethical hacking training center in Noida with high tech infrastructure and lab facilities and the options of opting for multiple courses at Noida Location. APTRON in Noida prepares thousands of aspirants for ethical hacking at reasonable fees that is customized keeping in mind training and course content requirement of each attendee.
Ethical Hacking training course involves "Learning by Doing" using state-of-the-art infrastructure for performing hands-on exercises and real-world simulations. This extensive hands-on experience in ethical hacking training ensures that you absorb the knowledge and skills that you will need to apply at work after your placement in an MNC.
APTRON Noida is one of the best ethical hacking training institute in Noida with 100% placement support. APTRON has well defined course modules and training sessions for students. At APTRON ethical hacking training is conducted during day time classes, weekend classes, evening batch classes and fast track training classes.
Aptron's Project-based 6 Months Industrial Training in Embedded Sysytem Covers the Following Modules
Industrial Training in Ethical Hacking is a modular 6 months course, regularized over 5 days a week, 2 hrs a day, and exclusively includes practical sessions. The course curriculum of Industrial Training in Ethical Hacking comprises:
Module 01: Introduction to Ethical Hacking
Module 02: Footprinting and Reconnaissance
Module 03: Scanning Networks
Module 04: Enumeration
Module 05: System Hacking
Module 06: Trojans and Backdoors
Module 07: Viruses and Worms
Module 08: Sniffers
Module 09: Social Engineering
Module 10: Denial of Service
Module 11: Session Hijacking
Module 12: Hacking Webservers
Module 13: Hacking Web Applications
Module 14: SQL Injection
Module 15: Hacking Wireless Networks
Module 16: Hacking Mobile Platforms
Module 17: Evading IDS, Firewalls, and Honeypots
Module 18: Buffer Overflow
Module 19: Cryptography
6 Month Based Projects List in Ethical Hacking Technologies
IDS-Intrusion Detection System
PXE Server
FTP Server
Hosting of multiple Websites on single IP
University Management using DHCP Server
Denial Of Service Attack Real Time Implementation
APTRON Project Based 6 Months Trainig Course duration for Ethical Hacking Technologies in Noida
Fast Track Training Program (6+ hours daily)
Regular Classes (Morning, Day time & Evening)
Weekend Training Classes (Saturday, Sunday & Holidays)