Best PDMS Training in Noida
Best PDMS Training in Noida

& Industrial Training in Noida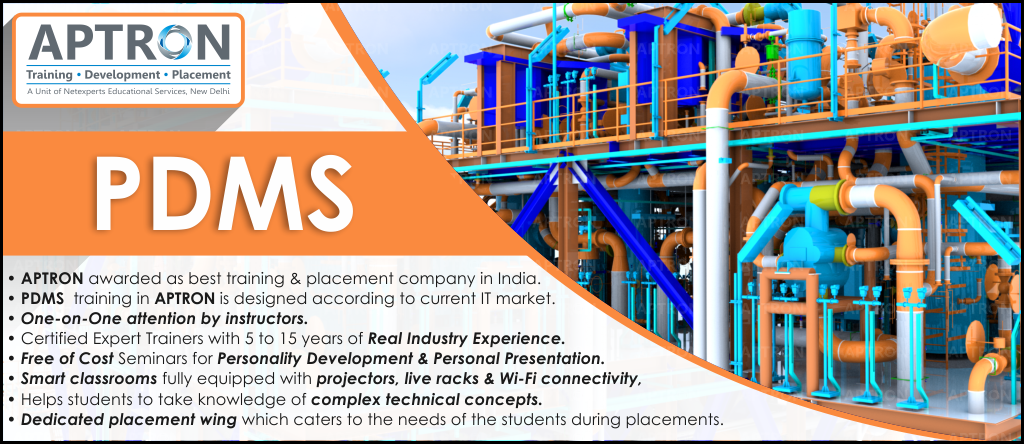 4

out of

5
based on
23
ratings.
5
user reviews.
APTRON Noida provides best plant design management system (PDMS) training in noida based on current industry standards that helps attendees to secure placements in their dream jobs at MNCs. APTRON Provides Best Adobe Illustrator Training in Noida. APTRON is one of the most credible PDMS training institute in Noida offering hands on practical knowledge and full job assistance with basic as well as advanced level pdms training courses. At APTRON pdms training in noida is conducted by subject specialist corporate professionals with 7+ years of experience in managing real-time pdms software training projects. APTRON implements a blend of academic learning and practical sessions to give the student optimum exposure that aids in the transformation of naïve students into thorough professionals that are easily recruited within the industry.
At APTRON's well-equipped PDMS training center in Noida aspirants learn the skills for Introduction to PDMS Software, Code rules, General requirements related to materials and testing, Welding requirements, Hydrostatic and pneumatic testing, Background of the design rules, PDMS Software training on real time projects along with PDMS placement training. plant design management system Training in Noida has been designed as per latest industry trends and keeping in mind the advanced PDMS course content and syllabus based on the professional requirement of the student; helping them to get placement in Multinational companies and achieve their career goals.
APTRON is the biggest PDMS training center in Noida with high tech infrastructure and lab facilities and the options of opting for multiple courses at Noida location. APTRON in Noida prepares thousands of aspirants for PDMS course at reasonable fees that is customized keeping in mind training and course content requirement of each attendee.
PDMS training course involves "Learning by Doing" using state-of-the-art infrastructure for performing hands-on exercises and real-world simulations. This extensive hands-on experience in PDMS training ensures that you absorb the knowledge and skills that you will need to apply at work after your placement in an MNC.
APTRON Noida is one of the best PDMS training institute in Noida with 100% placement support. APTRON has well defined course modules and training sessions for students. At APTRON PDMS training is conducted during day time classes, weekend classes, evening batch classes and fast track training classes.
Course Content and Syllabus for PDMS Training in Noida
Module 01: Code rules, scope and jurisdiction
Module 02: General requirements related to materials and testing
Module 03: Material toughness and impact testing requirements
Module 04: Joint categories and joint efficiencies
Module 05: General requirements related to stamping, reports, testing, PWHT, tolerances, and NDEs
Module 06: Welding requirements
Module 07: Committees, operation and voting procedures
Module 08: Editions, addenda and interpretations
Module 09: Design Requirements
Module 10: Design loadings and allowable stresses
Module 11: Design criteria and strength theory for Division 1
Module 12: Formulas for internal pressure and tensile loading
Module 13: Procedures for external pressure (vacuum) and compressive loads
Module 14: Openings and reinforcement
Module 15: Hydrostatic and pneumatic testing
Module 16: Background of the design rules
Module 17: Example design problems and solutions;
Module 18: Cylindrical shells and formed heads
Module 19: Seismic loading on vertical vessels
Module 20: Nozzle reinforcements
Module 21: Other special components
Module 22: External pressure and stiffening rings
Module 23: Reinforced openings and ligament efficiency
Top 20 Reasons to Choose APTRON for PDMS Training in Noida
PDMS training in Noida is designed according to current IT market.
Offer the best PDMS training and placement in Noida with well defined training modules and course sessions.
Facilitate regular, weekend and customized PDMS training in Noida..
One of the biggest team of Certified Expert Trainers with 5 to 15 years of Real Industry Experience.
Mentors of PDMS training in Noida helps in major project training, minor project training, live project preparation, interview preparation and job placement support.
Smart Labs with Real Latest Equipments.
24x7 Lab Facilities. Students are free to access the labs for unlimited number of hours as per their own preferred timings.
Smart classrooms fully equipped with projectors, live racks, Wi-Fi connectivity, Digital Pads.
Silent and Discussion Zone areas in Labs to enhance Self Study and Group Discussions.
Free of Cost Personality Development sessions including Spoken English, Group Discussions, Mock Interviews, Presentation skills.
Free of Cost Seminars for Personality Development & Personal Presentation.
Varity of Study Material: Books, PDF's, Video Lectures, Sample questions, Interview Questions (Technical and HR), and Projects.
Hostel Facilities available at Rs 5,500/month for PDMS Training in Noida students.
Free Study Material, PDFs, Video Trainings, Sample Questions, Exam Preparation, Interview Questions, Lab Guides.
Globally Recognized Course Completion Certificate.
Extra Time Slots (E.T.S.) for Practical's(Unlimited), Absolutely Free.
The ability to retake the class at no-charge as often as desired.
One-on-One attention by instructors.
Helps students to take knowledge of complex technical concepts.
Payment options: Cheque, Cash, Credit Card, Debit card, Net Banking.
APTRON Trainer's Profile for PDMS Training in Noida
APTRON'S PDMS Trainers are:
Are truly expert and fully up-to-date in the subjects they teach because they continue to spend time working on real-world industry applications.
Have received awards and recognition from our partners and various recognized IT Organizations.
Are working professionals working in multinational companies such as HCL Technologies, Birlasoft, TCS, IBM, Sapient, Agilent Technologies etc.
Are certified Professionals with 7+ years of experience.
Are Well connected with Hiring HRs in multinational companies.
Placement Assistance after PDMS Training in Noida
APTRON'S Placement Assistance
APTRON is the leader in offering placement to the students, as it has a dedicated placement wing which caters to the needs of the students during placements.
APTRON helps the students in the development of their RESUME as per current industry standards.
APTRON conducts Personality Development sessions including Spoken English, Group Discussions, Mock Interviews, Presentation skills to prepare students to face challenging interview situation with ease.
APTRON has prepared its students to get placed in top IT FIRMS like HCL, TCS, Infosys, Wipro, Accenture and many more.
APTRON Course duration for PDMS Training in Noida
Fast Track Training Program (6+ hours daily)
Regular Classes (Morning, Day time & Evening)
Weekend Training Classes (Saturday, Sunday & Holidays)