Winter Training in .Net
Best Project based Winter Training in .NET

& Training in Institute Noida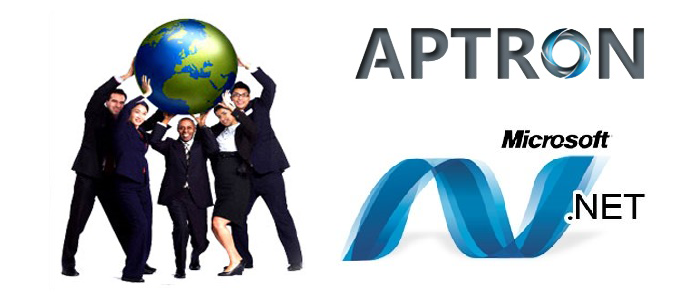 4

out of

5
based on
23
ratings.
5
user reviews.
APTRON live project-based winter training in .NET is a technical development workshop that prepares students for the industry. Our trainers build on what's taught at academic level. They impart practical skills; make students capable of solving real-time problems; and instill more confidence amongst students that is extremely critical for a professional start. This training is project-based where students work on live software application development tasks.
Talking about .NET Framework, it is Aptron's flagship application development platform needed for a large number of applications run on Microsoft Windows. It is compatible with all programming languages, such as C#, Visual Basic and F#; and allows users to easily write asynchronous codes for Windows apps.
Proficiency in the .NET Framework is a great value-add for individuals who want to venture into application development and software programming. After successfully completing the winter training in .NET Framework, candidates become ready to hit the professional market. They are able to seamlessly develop applications; and establish expertise in using the .NET Framework Class Library that consists of tested and reusable codes, which developers can use for their applications.
.NET Framework Winter Training makes candidates proficient in tasks like developing query operators; constructing XML fragments with XElement; Crystal Report formatting; hosting WCF services; creating Workflow-enabled applications; creating WPF simple applications etc.
Aptron's Project-based Winter Training in .Net Covers the Following Modules
Winter Training in .net is a modular winter course, regularized over 5 days a week, 2 hrs a day, and exclusively includes practical sessions. The course curriculum of Winter Training in .Net comprises:
Module 01: .NET Framework, CTS and CLS.
Module 02: Programming with C#.
Module 03: Multi-Core Parallel Programming, Covariance and Contravariance with C#.
Module 04: ASP.NET Client-Server Architecture, HTTP Protocol, IIS WebServers and Cassini.
Module 05: HttpContext and HttpApplication objects.
Module 06: ASP.NET Toolbox Webserver Controls.
Module 07: Master Pages and Themes.
Module 08: Zero Code, Two-way and One-way databinding with Templates, Designers and DataSource Controls.
Module 09: ADO.NET N-Tier DLL based, Two-way and One-Way databinding with Templates.
Module 10: HTML5 Canvas and Video Renderers.
Module 11: Database connectivity with DBFactories.
Module 12: Entity Framework 4.0 and LINQ.
Module 13: XML and XPath Filters.
Module 14: Website Navigation with SiteMap Providers and SiteMapResolve events.
Module 15: URL Mapping and URL Routing.
Module 16: AJAX and Codeplex AjaxControlToolkit.
Module 17: Custom Controls, User Controls and Composite Controls.
Module 18: jQuery, Javascript and CSS.
Module 19: SOAP XML Webservices and Windows Communication Foundation[WCF] desktop and internet services.
Module 20: WPF and Mobile Development.
Module 21: ASP.NET Generic Handlers.
Module 22: A do-it-yourself project for the students.
Winter Training Based Projects List in .Net Technologies
Online Shopping Cart
College Information System (CIS)
Student Management System(Window Based).
Query Management System
Online Exam
Online Shopping
Real Estate
Hostal Management System(HMS)
Music Online
Secure Information System
Net Banking
Sms System
Placement cell
Online Exam Conducting with Timer
Online Job Portal
Railway Ticker System
Human resource management system (HRMS)
Insurance Company
COURIER Management System.
Social Networking
APTRON Project Based Winter Trainig Course duration for .Net Technologies in Noida
Fast Track Training Program (6+ hours daily)
Regular Classes (Morning, Day time & Evening)
Weekend Training Classes (Saturday, Sunday & Holidays)