Project Based Winter Training in Android
Best Android Project based Winter Training in Noida

& Training Institute in Noida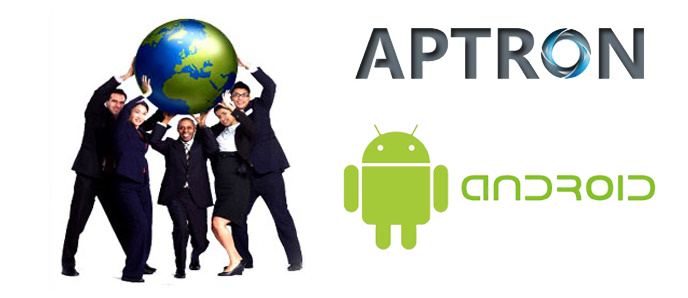 4

out of

5
based on
23
ratings.
5
user reviews.
APTRON Training Institute provides real-time and placement focused project based Android Winter Training in noida. Our six months Android certification course includes basic to advanced level and our Android winter training course is designed to get the placement in good MNC companies in noida as quickly as once you complete the Android training course. Our Android trainers are Android certification certified experts and experienced working professionals with hands on real time multiple Android projects knowledge.We have designed our Android course content and syllabus based training on students requirement to achieve everyone's career goal. In our Android training program, you will learn Components of a Android, Android real time project and Android certification placement training.
Scope of Growth for Android Application Developer.
One gets a big career boost by undergoing Android Application Development Training.
How is this you will ask? How can one grow after completing a course in android application development? What position can one get in the company after completing this android winter training course By Aptron ? What is an average salary one can draw? Where do I see myself 5 years from now in this domain? Below you will find answers to all your daunting questions.
The Android OS is one of the most popular and widely used operating systems available on the smartphones today. As per a recent study conducted by Google a total of 550,000 Android devices are activated each day world wide. India and China comprise of a huge share of this increasing demand for Android smartphones. Naturally, seeing the above numbers one can anticipate the demand for Android Application Developers world wide.Mobility is a demanding technology and every big company is looking to cash in on this demand. Thus, they are launching various applications for these handheld devices. For this every company is in need of mobile systems architect, these are individuals who understand the technologies well and can suggest the necessary approach to get the required solutions. A career as a mobile system architect can be pursued after completion of the android application development training from Aptron Pvt. Ltd(aptronnoida.in), Noida.
Freshers can expect salaries in the range of 2,00,000 to 6,00,000 based on their working knowledge and projects which form a part of the curriculum in this course lasting a total of 64 hours.
So, for those who are planning to make their career in this uncharted arena, getting enrolled in the best android training institute will serve the purpose and help them gather the requisite skills. Aptron Pvt. Ltd. (aptronnoida.in) make this happen for their students and prepare them for challenging career as a successful Android Application Developer.
APTRON's Project-based Winter Training in Android Covers the Following Modules
Winter Training in Android is a modular winter course, regularized over 5 days a week, 2 hrs a day, and exclusively includes practical sessions. The course curriculum of Winter Training in Android comprises:
Module 01: Introduction to Android

Brief history of Android
What is Android?
Why is Android important?
Software architecture of Android
Advantages of Android

Module 02: Installation and Configuration of Android

Details about the software requirement
Download and installation process of eclipse
Download and installation process of JDK
Installation of ADT plugin for eclipse
Download and installation process of Android SDK
Configuration of ADT plug-in for eclipse
How to select Android version?
Step to create new project?
Running your application
Creation of new AVD

Module 03: Getting Started

How to select Android version?
Step to create new project
Running Your Application
Creation of New AVD
Creating run configuration
Creating your first Android activity
List of basic sample programs

Module 04: Introductions to Application Components Activities

Services
Broadcast receivers
Content providers
Intents
Notifications
Activating and shutting down components
Brief idea about manifest file
Brief idea about activities and Task

Module 05: Android Component Life Cycle

Activity Life Cycle with sample program
Service Life Cycle with sample program

Module 06: Android Layouts

What are views, Layouts and there classification?
How Android Draws views and Layout?
Classification
Table Layout ln detail with Example
Tab Layout ln detail with Example
Frame Layout ln detail with Example
Absolute Layout ln detail with Example
Linear Layout in detail with Example

Module 07: Android Views

Styles and Themes
What are Fragments?
Introduction to Menus
Introduction to Drawers
Handling User Interaction Events
Creating Dialogs
Notifications
Intents, Broadcast Receivers, Adapters and Internet
Data Storage
Working with SQL Lite
Working in Background
Using the Camera, Taking Pictures and the Media API
Maps, GEO coding and Location Based Services
About ADB (Android Debug Bridge)
Data Security and Permission
Drawing 2D and 3D Graphics
Using Bluetooth and Managing and Monitoring Wi-Fi
Introduction SMS and MMS
P2P Communication
Content Providers
Android Telephony
Sensor Device
Further Advanced Topics
Web Services with Architecture
Google Cloud Messaging
Introduction to NDK
Introduction to Gaming
Winter Training Based Projects List in Android Technologies
Drivers Connectivity
Drivers Connectivity
Tictactoe
Media Playear
Bord CastSMS
Location Finder GPS
Wall Changer
Call Blocker
Flashlight
Call Log
Payment MVC
Mr Bhukku (Snake Game)
Remote Controlled Robot Using Android Application
Smart Travel Guide Application for Android Mobile
Android Phone Based Home Surveillance System
Automatic Number Plate Recognition on Android Platform
Bus Notification System Based on Android Technology
Real Time Multiple Cross Platform Communication through Bluetooth
Design of Chatting Application Based on Android Bluetooth
Machine Learning Approach to Android Malware Detection
Android-based Mobile Framework for Navigating Ultrasound and Vision Guided Autonomous Robot
APTRON Project Based Trainig Course duration for Android Technologies in Noida


Fast Track Training Program (6+ hours daily)
Regular Classes (Morning, Day time & Evening)
Weekend Training Classes (Saturday, Sunday & Holidays)