Winter Training in CCNA
Best CCNA Project based Winter Training in Noida

& Training Institute in Noida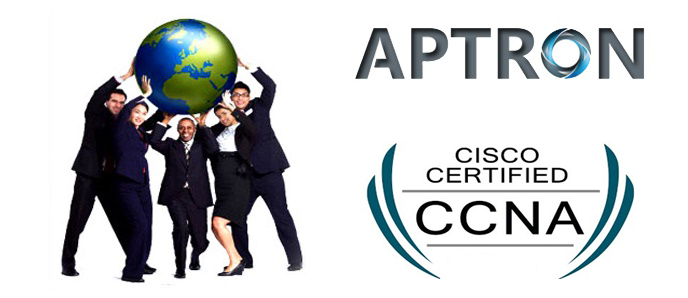 4

out of

5
based on
23
ratings.
5
user reviews.
APTRON Training Institute provides real-time and placement focused live project based CCNA winter training in noida. Our winter CCNA certification course includes basic to advanced level and our winter CCNA course is designed to get the placement in good MNC companies in noida as quickly as once you complete the CCNA training course. Our CCNA trainers are CCNA certification certified experts and experienced working professionals with hands on real time multiple CCNA projects knowledge.We have designed our CCNA course content and syllabus based training on students requirement to achieve everyone's career goal. In our CCNA training program, you will learn Components of a CCNA, CCNA real time project and CCNA certification placement training.
In this fast track generation, almost every individual tend to get focused with a prosperous career. To stand tall and still move ahead in such a competitive age, certified courses have helped aspiring individuals to seek a better job. It is observed that the regular courses have at times failed to offer a deserving candidate with a stand-out job profile. In such a scenario, students availing courses with Microsoft certifications or Cisco certified vocational trainings have managed to give their professional career a better and satisfactory start. Aptron pvt Ltd recognized institute that provide project based CCNA winter training training in Noida. Besides these, a large number of students and even employees have shown interest to pursue CCNP training from distinguishable institute in Noida. It is even noticed that the confidence level goes one step higher adding to their smartness amongst those who undertake such vocational training or certified courses.
Cisco certified courses can honestly do a lot for an individual in his life by not only increasing his chances of getting a better job in the networking field but also the prospects to achieve a satisfied professional life goes high. Completion of a CCNA winter training in Noida will boost your confidence to even compete the candidates who have pursued a technical degree and yet applying for the same job which you opted for with just basic conceptual knowledge on subjects like science and mathematics including computer hardware and its applications. Besides, an employed individual can also do such certified courses in parallel to sharpen his logical and analytical mind. CCNA is basically the abbreviation used for Cisco Certified Network Associate. This vocational course lays the foundation of networking for those individuals who are interested to work as a network administrator or network engineer. The test or assessment procedure involves two distinct ways known as single-exam path and dual-exam path. The type of examination selection is solely based on the approach preferred by any candidate. It can be either 640-802 CCNA which falls in the single-exam path or 640-822 ICND1 and 640-816 ICND2 followed under the dual-exam path. Based on the skills and practical experience an individual can earn almost Rs.15, 000 per month after completion of such certified courses.
APTRON's Project-based Winter Training in CCNA Covers the Following Modules
Winter Training in CCNA is a modular winter course, regularized over 5 days a week, 2 hrs a day, and exclusively includes practical sessions. The course curriculum of Winter Training in CCNA comprises:
Module 01: CCNA - Interconnecting Cisco Networking Devices Part 1(ICND1)

Building Simple Network
Establishing Internet Connectivity
Managing Network Device Security
Building a Medium-sized Network
Introducing IPv6 ICND1 Super Lab

Module 02: CCNA - Interconnecting Cisco Networking Devices Part 2(ICND2)

Intro
Review
Implementing Scalable Medium-sized Networks
Troubleshooting BAsic Connectivity
Implementing an EIGRP-based Solution
Implementing a Scalable Multiarea Network OSPF-Based solution
Area Networks
Network Device Management
ICND2 Superlab

Module 03: CCNP - Implementing Cisco IP Routing (ROUTE v2.0)

Basic Network and Routing Concepts
EIGRP Implementation
OSPF Implementation
Configuration of Redistribution
Path Control Implementation
Enterprise Internet Connectivity
Routers and Routing Protocol Hardening

Module 04: CCNP - Implementing Cisco IP Switched Networks

Basic Concepts and Network Design
Campus Network Architecture
Spanning Tree Implementation
Configuring Inter-VLAN Routing
Implementing High Availability Networks
First Hop Redundancy Implementation
Campus Network Security

Module 05: CCNP - Troubleshooting and Maintaining Cisco IP Networks (TSHOOT)

Tools and Methodologies of Troubleshooting
Troubleshooting at SECHNIK Networking Ltd
Troubleshooting at TINC Garbage Disposal Ltd.
Troubleshooting at PILE Forensic Accounting Ltd
Troubleshooting at Bank of POLONA Ltd
Troubleshooting at RADULKO Transport Ltd
Winter Training Based Projects List in CCNA Technologies
Network design & implementaion with OSPF and GRE
Routing protocols used in MANET networks and an analysis of various security issues faced within routing protocols
Network Security Implementation
ASA box-level failover
Dynamic Multipoint vpn
Group Encrypted Transport Vpn
Remote access vpn behind a nat Router
Site to Site ipsec Tunnel
SLA Monitoring
APTRON Project Based Trainig Course duration for CCNA Technologies in Noida
Fast Track Training Program (6+ hours daily)
Regular Classes (Morning, Day time & Evening)
Weekend Training Classes (Saturday, Sunday & Holidays)