Winter Training in Cloud Computing
Best Cloud Computing Project based Winter Training in Noida

& Winter Training Institute in Noida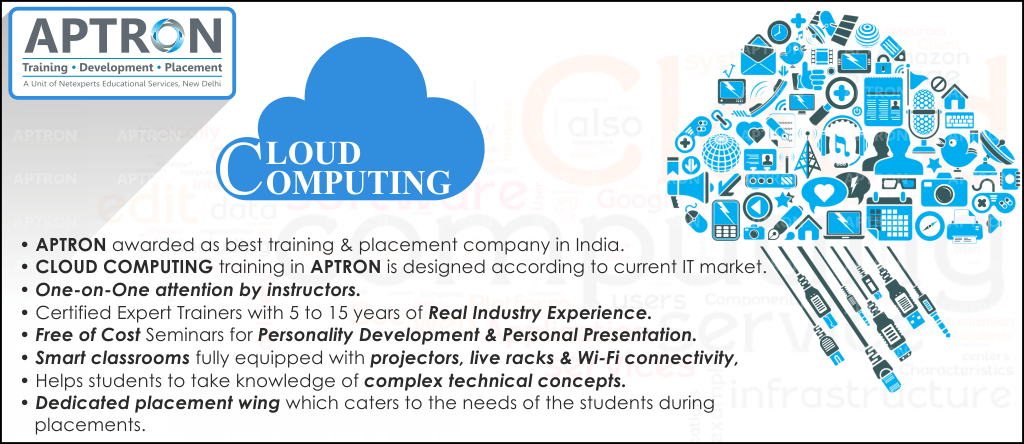 4

out of

5
based on
23
ratings.
5
user reviews.
APTRON Noida provides real-time and placement focused live project based winter cloud computing training in noida. Our winter cloud computing certification course includes basic to advanced level and our winter cloud computing course is designed to get the placement in good MNC companies in noida as quickly as once you complete the cloud training course.Our cloud computing trainers are cloud computing certification certified experts and experienced working professionals with hands on real time multiple Cloud Computing projects knowledge. We have designed our cloud computing course content and syllabus based training on students requirement to achieve everyone's career goal. In our cloud computing training program, you will learn Components of a computing cloud, Software as a Service, Platform as a Service (PaaS), Deploying Infrastructure as a Service (IaaS), Migrating to the Cloud, cloud computing real time project and cloud computing certification placement training.
Cloud computing is a technology that uses the internet and central remote servers to maintain data and applications. Cloud computing allows consumers and businesses to use applications without installation and access their personal files at any computer with internet access. APTRON provides cloud computing training according to the current requirement of IT industry. This technology allows for much more efficient computing by centralizing storage, memory, processing and bandwidth. A simple example of cloud computing is Yahoo email, Gmail, or Hotmail etc. You dont need a software or a server to use them. All a consumer would need is just an internet connection and you can start sending emails. The server and email management software is all on the cloud ( internet) and is totally managed by the cloud service provider Yahoo , Google etc.
The term cloud computing probably comes from (at least partly) the use of a cloud image to represent the Internet or some large networked environment. We don't care much what's in the cloud or what goes on there except that we depend on reliably sending data to and receiving data from it. Cloud computing is now associated with a higher level abstraction of the cloud. Instead of there being data pipes, routers and servers, there are now services. The underlying hardware and software of networking is of course still there but there are now higher level service capabilities available used to build applications. Behind the services are data and compute resources. A user of the service doesn't necessarily care about how it is implemented, what technologies are used or how it's managed. Only that there is access to it and has a level of reliability necessary to meet the application requirements. The consumer gets to use the software alone and enjoy the benefits.
Cloud computing is the delivery of computing as a service rather than a product, whereby shared resources, software, and information are provided to computers and other devices as a metered service over a network (typically the Internet). Cloud computing comes into focus only when you think about what IT always needs: a way to increase capacity or add capabilities on the fly without investing in new infrastructure, training new personnel, or licensing new software. Cloud computing encompasses any subscription-based or pay-per-use service that, in real time over the Internet, extends IT's existing capabilities. Likely they will be around in usage for quit a while to come. But Cloud computing has become the new buzz word driven largely by marketing and service offerings from big corporate players like Google, IBM and Amazon.
APTRON's Project-based Winter Training in Cloud Computing Covers the Following Modules
Winter Training in Cloud Computing is a modular winter course, regularized over 5 days a week, 2 hrs a day, and exclusively includes practical sessions. The course curriculum of Winter Training in Cloud Computing comprises:
Module 01: Introduction to Cloud Computing

Defining cloud computing
Components of a computing cloud
Differentiating types of clouds: public, private, hybrid
Delivering services from the cloud
Categorizing service types
Comparing vendor cloud products: Amazon, Google, Microsoft and others

Adopting the Cloud

Key drivers of cloud computing solutions
Instantaneous provisioning of computing resources
Handling varied loads with elasticity and seamless scalability
Tapping into an infinite storage capacity
Cost-effective pay-as-you-use billing models
Handling sensitive data
Aspects of cloud security
Assessing governance solutions

Module 02: Exploiting Software as a Service (SaaS)

Characterizing SaaS
Minimizing the need for local hardware and software
Streamlining administration with centralized installation and updates
Optimizing cost and performance with the ability to scale on demand
Comparing service scenarios
Improving collaboration with business productivity tools
Simplifying business process creation by integrating existing components
Inspecting SaaS technologies
Deploying Web applications
Implementing Web services: SOAP, REST
Choosing a development platform

Module 03: Delivering Platform as a Service (PaaS)

Heading Centering
Exploring the technical foundation for PaaS
Specifying the components of PaaS
Analyzing vendor PaaS provisions
Selecting an appropriate implementation
Building services with solution stacks
Evaluating the architecture of vendor specific platforms
Becoming familiar with service platform tools
Leveraging the power of scalable middleware
Managing cloud storage
Controlling unstructured data in the cloud
Deploying relational databases in the cloud
Improving data availability
Employing support services
Testing in the cloud
Monitoring cloud-based services
Analyzing portability across platforms

Module 04: Deploying Infrastructure as a Service (IaaS)

Enabling technologies
Scalable server clusters
Achieving transparency with platform virtualization
Elastic storage devices
Accessing IaaS
Provisioning servers on demand
Handling dynamic and static IP addresses
Tools and support for management and monitoring

Module 05: Building a Business Case

Calculating the financial implications
Analyzing current and future computing requirements
Comparing in-house facilities to the cloud
Estimating economic factors downstream
Preserving business continuity
Selecting appropriate service-level agreements
Safeguarding access to assets in the cloud
Security, availability and disaster recovery strategies

Module 05: Migrating to the Cloud

Technical considerations
Rearchitecting applications for the cloud
Integrating the cloud with existing applications
Avoiding vendor lock-in
Planning the migration
Incremental vs
one-step solution
Selecting a vendor
Establishing staff skill requirements
Winter Based Projects List in Cloud Computing Technologies
Building a private cloud using LAMP, WAMP & eyeOS
Building a cloud server using VMWARE ESXi & vSphere
Warehouse Management System using Salesforce (SAAS)
Recruiting Application using Salesforce (SAAS)
PushBots Cloud Application Using cloud PAAS
APTRON Project Based Winter Trainig Course duration for Cloud Computing Technologies in Noida
Fast Track Training Program (6+ hours daily)
Regular Classes (Morning, Day time & Evening)
Weekend Training Classes (Saturday, Sunday & Holidays)