Winter Training in php
Best PHP Live Project based Winter Training in Noida

& Winter Training Institite in Noida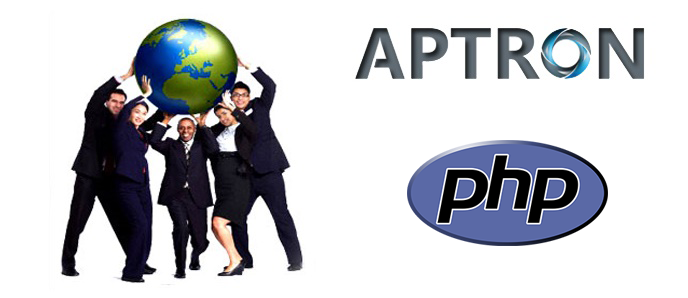 4

out of

5
based on
23
ratings.
5
user reviews.
APTRON provides project-based winter training in PHP/PHP++, which is a must for all aspiring web developers, especially when over 250 million websites run on PHP. Aptron has a great pool of PHP experts who guide students on the latest PHP version, i.e. PHP 5. They work on live PHP scenarios; understand how scripts are written for a corporate function; and become more confident about web development tasks. This is a project-based training, completing which gives students both a training-completion and project-execution certification.
A general understanding about PHP states that it is the most commonly known and used server-side open-source scripting language, best suited to web development. It is used to power both websites and blogs; and can also be embedded into HTML.
Students attending this winter training are introduced to the various language constructor concepts, such as constants & variables and PHP data types. Participants additionally develop expertise in terminologies related to the types of operators; associative, indexed & mixed array declaration; file handling; and MySQL tasks.
Aptron's Project-based Winter Training in php Covers the Following Modules
Winter Training in php is a modular winter course, regularized over 5 days a week, 2 hrs a day, and exclusively includes practical sessions. The course curriculum of Winter Training in php comprises:
Module 01: Introduction to php
Module 02: Language Constructors
Module 03: Loops
Module 04: Operators
Module 05: String Declaration
Module 06: Arrays
Module 07: File Handling
Module 08: Functions
Module 09: Types of Errors
Module 10: MySQL
Module 11: Session
Module 12: Cookies
Module 13: Object Oriented Concepts in PHP
Module 14: Working with Regular Expressions
Module 15: Working with XML
Module 16: Communicating with Internet Services
Module 17: Java Script
Winter Training Based Projects List in php Technologies
Hospital Management System (HMS)
College Management System (CMS)
Mobile Store System .
Online exam
Mobile Phone Anti Virus
Online Shopping
Internet Banking
Airline Reservation System
ATM Database System
Multi User Voice Chat (VOIP)
Telephone Billing System
Client Server application
Parking system
Railway Ticker System
Human resource management system (HRMS)
College Library Record Application
Helps students to take knowledge of complex technical concepts.
Billing Management System
APTRON Project Based Winter Trainig Course duration for php Technologies in Noida
Fast Track Training Program (6+ hours daily)
Regular Classes (Morning, Day time & Evening)
Weekend Training Classes (Saturday, Sunday & Holidays)