Winter Training in SAS
Best Live Project Based SAS Winter Training in Noida

&Training Institute in Noida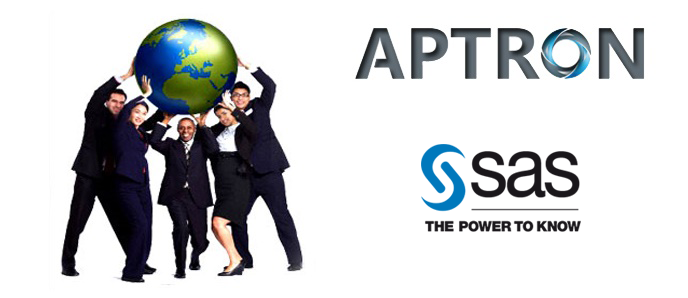 4

out of

5
based on
23
ratings.
5
user reviews.
The Aptron Institute offers a set of software products under the name of the SAS, or the Statistical Analysis System. This collection of software works on a number of operations and is hence included in the system. These tasks are all related to business administration and function, and the user can work on all these tasks easily using SAS. Every aspect of business administration is covered making this a very common software platform for all kinds of businesses. SAS winter training in Noida is widely developed and developing further.
Once you get project based SAS winter insdustrial training in Noida, you are all set to explore the features of the collection. You get the chance to explore all new sources of data and investigate them to great depths. You could even manipulate the data quite easily without any trouble. You are trained to read databases, conduct variable transformations and analyses, and even integrate the SAS with all other databases that are available. You are able to create visualizations in reports by using the option of SAS visual analytics. SAS Visual Analytics gives you several options.
Under the SAS system, you have a number of programs that can help you in completing your daily tasks and projects of all different kinds. Writing reports and creating graphics are made easy with this. The research and project management software helps in creating marketing and operational strategies. Gathering statistics and all such kinds of data is made easy with the tools for data entry and retrieval. The tasks can be performed in very less time. You have tools for human resources management, customer care protocols, information systems support, and all kinds of departmental functions. All you need is SAS training in Noida . The training makes you well versed in all the features and tools.
Once you get an SAS training, you are fit to start working. The training gives you all round experience in using the project for the various tasks. You get hands on experience in working on live projects as well. The tutors are all well experienced, and guide you in the correct way to make the professionals of tomorrow. When you choose and institute for SAS in Noida, make sure you choose the best
Aptron Institute in Noida
. There is always scope for development, and you need to keep yourself well updated with all latest news and updates.
Aptron's Project-based Winter Training in SAS Covers the Following Modules
Winter Training in SAS is a modular winter course, regularized over 5 days a week, 2 hrs a day, and exclusively includes practical sessions. The course curriculum of Winter Training in SAS comprises:
Module 01: SAS Data Warehousing Concepts

BASE SAS Introduction
An Overview of the SAS System
SAS Tasks
Output produced by the SAS System
SAS Tools (SAS Program - Data step and Proc step)
A sample SAS program
Exploring SAS Windowing Environment Navigation

Module 02: Data Access & Data Management

SAS Data Libraries
Rules for Writing SAS Programs / Statements, Dataset Variable Name Getting familiar with SAS Dataset
Data portion of the SAS Dataset
Rules for writing Dataset names / Variable names
Attributes of a Variable (Numeric / Character) options
System Options (nodate, linesize, pagesize, pageno etc)
Input Buffer
Program data vector (PDV)

Module 03: Datalines or cards Data Transformations

SAS Date Values
Length Statement
Creating multiple output SAS datasets from singe input SAS dataset
Conditionally writing observations to one or more SAS datasets
The Data Statement_Null_
The_N_Automatic Variable
Creating Subset of observations
DO WHILE Statement
DO UNTIL Statement
Iterative DO loop Processing
Where Statement OR Where Condition (dataset)
Deciding whether to use a Where statement or Subsetting IF statement
Multiple BY variables
DATASETS Procedure ( To modify the Variable name/lable/format/informat)
The DELETE Statement
The SUM Statement
The RENAME = Data Set option
Combining SAS Datasets
Concatenating SAS Data Sets Using SET statement in DATA Step
Inter Leaving SAS Data Sets
Merging SAS Data Sets
Match-Merge
Using Merge Statement
THE IN = Data Set option
One-to-Many Merging
Many-to-Many Merging

Module 04: Reading Raw Data From External File ( INFILE & INPUT Statement )

Introduction to Raw Data
Factors considered to examine the raw data
Reading Unaligned Data (List Input)
Reading Data Aligned to Columns (Column Input)
Reading Data that requires Special Instructions (Formatted Input)
Relative- Column pointer control (+)
Absolute - Column pointer control (@)
Mixed Style Input ( Mixing List, Input. Formatted Input styles in one INPUT Staement)
Using colon (:) modifier to specify an informat in the INPUT Statement )
Recognize delimiter in the raw data file (Using DLM= option in INFILE Statement
Missing data at the end of row (Using MISSOVER option in INFILE statement )
Missing values without placeholders (DSD option in INFILE statement)
Reading a raw data file with multiple records per observation(Column pointer controls)
Method1: Using Multiple INPUT statement
Method2: Using Line Pointer Control (/)
Reading Variables from multiple records in any order (#n)
Line Hold Specifies in INPUT statement
The Single Trailing @
The Double Trailing @@ ( Multiple Observations per Record)
Methods of Control in INFILE statement
FLOWOVER
STOPOVER
MISSOVER
TRUNCOVER
Writing to an External File (FILE & PUT Statement )
Reading Excel Spreadsheets (IMPORT Wizard / Import Procedure)

Module 05: SAS FUNCTIONS

Manipulating Character Values
Manipulation Numeric Values
Manipulating Numeric Values based on DATES
Converting Variable Type
INPUT ( character-to-numeric)
PUT (numeric-to-character)
Debugging SAS program (DEBUG Option)
SAS VARIABLE Lists
SAS Arrays
Enhancing Report Output
Defining Titles & Footnotes
Formatting Data values ( Date, Character & Numeric values )
Creating User-Defined Formats (Proc Format)
Formats & Informats

Module 06: Analysis & Presentation

Descriptor portion of the SAS Data Set ( Proc Contents)
Producing List Reports (Proc Print)
Sequencing and Grouping Observations (Proc Sort)
Producing Summary Reports
PROC FREQ -(One Way & Two-Way Frequencies)
PROC MEANS
PROC REPORT
PROC TABULATE
PROC SUMMARY
PROC PRINTO
PROC APPEND
PROC TRANSPOSE
PROC COPY
Creating HTML Report
Creating Text Reports
Creating PDF Reports
Creating CSV Files

Module 07: SAS Macro Language Introduction to the Macro Facility Purpose of the Macro Facility

Generate SAS code using Macros (%Macro & %Mend)
Tips on Writing Macro-Based Programs
Replacing Text Strings using Macros Variables (%Let)

Module 08: MACRO PROGRAMS

Defining a Macro (%Macro & %Mend )
Macro Compilation
Monitoring Macro Compilation (MCOMPILENOTE OPTION)
Calling a Macro (%Macro-Name)
Macro Execution
Monitoring Macro Execution (MLOGIC OPTION)
Viewing the generate SAS Code in the Log from Macro Program (MPRINT OPTION)
Macro Storage
Macro Parameters
Macro Parameters Lists
Macros with Positional Parameters
Macros with Keyword Parameters
Arithmetic and logical Operations
Conditional Processing
% IF expression % THEN text ; %ELSE %TEXT;
% IF expression % THEN %DO; %END; %ELSE; %DO;
Stored Compiled Macros
%INCLUDE Statement

Module 09: Macro Processing

Tokens
Macro Triggers
How the Macroprocessor works

Module 10: Macro Variables Concepts

Displaying Macro Variable Value in the SAS log
Automatic Macro Variables
System-Defined Macro Variables
User-Defined Macro Variable
Datatype
%LET Statement
Global Macro variables
Local Macro Variables
Deleting User-Defined Macro Variable
Macro Functions
Character Strings
%SYSFUNC
%STR
Macro Variable Name Delimiter

Module 11: SAS SQL PROCESSING Introduction to the SQL Procedure

Terminology
Features of PROC SQL
Queries
Retrieving Data from a table
Identify All Rows in a Table
Remove Duplicate Rows
Sub setting using WHERE clause
Sub setting with Calculated Values
Enhancing Query Output (LABEL, FORMAT)
Grouping Data (Group By)
Updating Data values
Using Table Alias
Creating Views
Creating Dropping Indexes
Sub Queries
Non-Correlated Sub Query
Correlated Sub Query
Combining Tables
Joins
Inner Joins
Outer Joins
Left Join
Right Join
Full Join

Module 12: Set Operators

EXCEPT
INTERSECT
UNION
Choosing between Data Step Merges and SQL Joins

Module 13: UNIX

Introduction to Unix
Introduction to UNIX Architecture
Understanding UNIX Commands
Understanding ID/Groups/Permissions
Introduction to Shell Scripting
Writing UNIX Programs
Understanding VI Editor
Introduction to LSF
Scheduling SAS Codes through UNIX
Winter Training Based Projects List in SAS Technologies
An introduction to the SAS operating environment.
Modifying existing SAS data sets using set; using loops in the data step; the ttest procedure.
Column-wise input; analysis of categorical data using chi-square tests.
Updating existing SAS data sets with new data.
Basic one factor analysis of variance using proc GLM.
Advanced analysis of variance, custom hypothesis tests, and other features of proc GLM.
Multivariate analysis of variance using proc GLM.
Discriminant analysis with proc discrim.
Using arrays, first and last, and processing dates. Repeated measures analysis.
Some aspects of frequency domain analysis of time series using proc spectra.
SAS global form 2007
APTRON Project Based Trainig Course duration for SAS Technologies in Noida
Fast Track Training Program (6+ hours daily)
Regular Classes (Morning, Day time & Evening)
Weekend Training Classes (Saturday, Sunday & Holidays)