Best Python training in Noida
Best Python Training in Noida

& Best Python Training Institute in Noida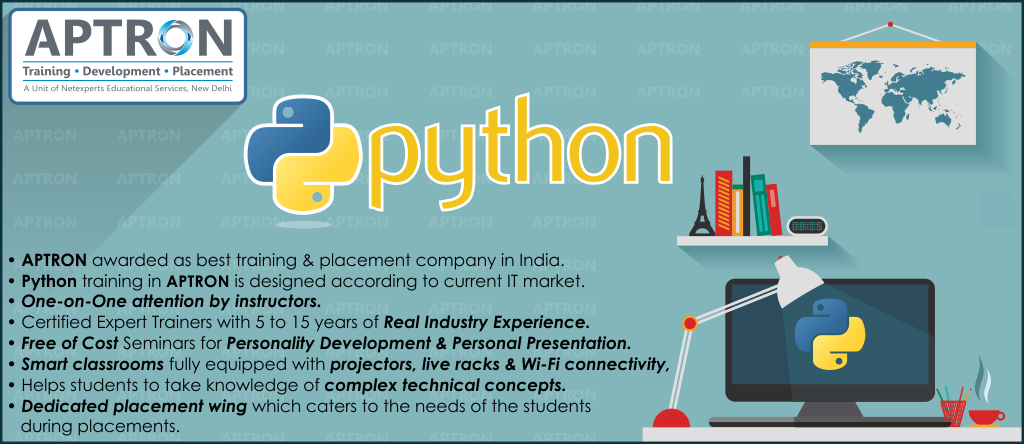 4

out of

5
based on
23
ratings.
5
user reviews.
APTRON Noida provides Best Python training in noida based on current industry standards that helps attendees to secure placements in their dream jobs at MNCs. APTRON Provides Best Python Training in Noida. APTRON is one of the most credible Python training institutes in Noida offering hands on practical knowledge and full job assistance with basic as well as advanced level Python training courses. At APTRON Python training in noida is conducted by subject specialist corporate professionals with 7+ years of experience in managing real-time Python projects.
Python is a high level language, which is widely used for general purpose programming as it integrates with your systems more effectively. It runs on all the operating systems like Windows, Linux/Unix, and Mac OS etc. It has also been ported to the .NET and Java virtual machines. As it has an open source license, it is free to use even for commercial products. With the use of Python, programmers can program a particular function in lesser lines of codes as compared to other programming languages. Also, it enhances the readability of the code. It helps to programs both large scale and small scale programs easily and compactly.
Python supports different programming paradigms like object oriented, functional, procedural and imperative styles. It boasts of an automatic memory management and dynamic type of system. Its vast and comprehensive library lets programmers to develop any program easily. It is widely used as a scripting language but can also be used in large non scripting programs.
Why Python?
Python is an extremely popular language nowadays. Thus, to survive in this corporate world, it is important to keep oneself updated with new languages which widely aid in high level programming. It is very easy for expert programmers to pick up Python. Also, fresh programmers can easily learn python as it is:
Easy to learn
Code is simple to write and read
Modular code, thus easy to understand.
Starting salary of a Python developer is around 70k and plus. It is in fact a top growing skill in the past 3 months. Thus, learn Python from a highly reputed institute where instructors have hands experience on it. Instructors at APTRON PVT LTD pay more stress on the individual needs of a student.
APTRON Noida is one of the best Python training institute in Noida with 100% placement support. APTRON has well defined course modules and training sessions for students. At APTRON Python training is conducted during day time classes, weekend classes, evening batch classes and fast track training classes.
Course Content and Syllabus for Python Testing Training in Noida
Python Course Content
An Introduction to Python
Introductory Remarks about Python
A Brief History of Python
How python is differ from other languages
Python Versions
Installing Python
IDLE
Getting Help
How to execute Python program
Writing your first program
Python Basics
Python keywords and Identifiers
Python statements
Python indentation
Comments in python
command line arguments
Getting user input
Exercise
Variables and data types

Introduction
Variables
Data types
Numbers
Strings
Lists, tuples & Dictionary
Exercise

Decision making & Loops

Introduction
Control Flow and Syntax
The if Statement
Python Operators
The while Loop
break and continue
The for Loop
Pass statement
Exercise

Functions

Introduction
Calling a function
Function arguments
Built in functions
Scope of variables
Decorators
Passing Functions to a Function
Lambda
Closures
Exercise

Modules and Packages

Modules
Importing module
Standard Module - sys
Standard Module - OS
The dir Function
Packages
Exercise

Exception Handling

Errors
Run Time Errors
Handling IO Exceptions
Try.... except statement
Raise
Assert
Exercise

Files and Directories

Introduction
Writing Data to a File
Reading Data From a File
Additional File Methods
Working with files
Working with Directories
The pickle Module
Exercise

Classes Objects

Introduction classes and objects
Creating Classes
Instance Methods
Special class method
Inheritance
Method overriding
Data hiding
Exercise

Regular Expressions

Introduction
Match function
Search function
Grouping
Matching at Beginning or End
Match Objects
Flags
Exercise

Socket programming

What are sockets?
Creating sockets
Server-client socket methods
Connecting client server
Client-server chatting program
Exercise

Top 20 Reasons to Choose APTRON for Python Training in Noida

Python training in Noida is designed according to current IT market.
Offer the best Python training and placement in Noida with well defined training modules and course sessions.
Facilitate regular, weekend and customized Python training in Noida..
One of the biggest team of Certified Expert Trainers with 5 to 15 years of Real Industry Experience.
Mentors of Python training in Noida helps in major project training, minor project training, live project preparation, interview preparation and job placement support.
Smart Labs with Real Latest Equipments.
24x7 Lab Facilities. Students are free to access the labs for unlimited number of hours as per their own preferred timings.
Smart classrooms fully equipped with projectors, live racks, Wi-Fi connectivity, Digital Pads.
Silent and Discussion Zone areas in Labs to enhance Self Study and Group Discussions.
Free of Cost Personality Development sessions including Spoken English, Group Discussions, Mock Interviews, Presentation skills.
Free of Cost Seminars for Personality Development & Personal Presentation.
Varity of Study Material: Books, PDF's, Video Lectures, Sample questions, Interview Questions (Technical and HR), and Projects.
Hostel Facilities available at Rs 5,500/month for Python Training in Noida students.
Free Study Material, PDFs, Video Trainings, Sample Questions, Exam Preparation, Interview Questions, Lab Guides.
Globally Recognized Course Completion Certificate.
Extra Time Slots (E.T.S.) for Practical's(Unlimited), Absolutely Free.
The ability to retake the class at no-charge as often as desired.
One-on-One attention by instructors.
Helps students to take knowledge of complex technical concepts.
Payment options: Cheque, Cash, Credit Card, Debit card, Net Banking.

APTRON Trainer's Profile for Python Training in Noida APTRON'S Python Trainers are:

Are truly expert and fully up-to-date in the subjects they teach because they continue to spend time working on real-world industry applications.
Have received awards and recognition from our partners and various recognized IT Organizations.
Are working professionals working in multinational companies such as HCL Technologies, Birlasoft, TCS, IBM, Sapient, Agilent Technologies etc.
Are certified Professionals with 7+ years of experience.
Are Well connected with Hiring HRs in multinational companies.

Placement Assistance after Python Training in Noida APTRON'S Placement Assistance

APTRON is the leader in offering placement to the students, as it has a dedicated placement wing which caters to the needs of the students during placements.
APTRON helps the students in the development of their RESUME as per current industry standards.
APTRON conducts Personality Development sessions including Spoken English, Group Discussions, Mock Interviews, Presentation skills to prepare students to face challenging interview situation with ease.
APTRON has prepared its students to get placed in top IT FIRMS like HCL, TCS, Infosys, Wipro, Accenture and many more.

APTRON Course duration for Python Training in Noida

Fast Track Training Program (6+ hours daily)
Regular Classes (Morning, Day time & Evening)
Weekend Training Classes (Saturday, Sunday & Holidays)